Contact Us
UGPG Board Members 2019
Committee Head
Jim Seamons
(435) 760-0325
Treasurer-Membership Coordinator
Ed Dennis
(801) 718-6326
Media/PR Contact
Jim Seasmons
(435) 760-0325
"
Lindsay Bench
(801) 362-8178
Club Seed Distribution
David Bradley
(801) 637-4082
Merchandise
Jordan Rogers
(801) 678-4323
"
Travis Evans
(801) 706-2827
Newsletter
Matt McConkie
(801) 458-3383
"
Gordon Tanner
Patch Tour
Matt McConkie
(801) 458-3383
Seed Auction Coordinator
Cliff Warren
Seed Auction Team
Ben McRae
(385) 242-3557
"
DJ Steffler
Seminars
Kyle Fox
(801) 319-9926
"
Mohamed Sadiq
Sponsorships
Kyle Fox
(801) 319-9926
"
Matt McConkie
(801) 458-3383
Website
Yvonne Israelsen
(801)870-3798
"
Jamie Johnson
Weigh-Off Team 2019
Weigh-off Coordinator
Ben McRae
(385) 242-3557
Weigh-off Coordinator Assistant
Kyle Fox
(801) 319-9926
Other Veggie Weigh-off Coordinator
Dale Thurber
Weigh-off Info/Membership Table
Ed & Laurel Dennis
Weigh-off Registration/Records Table
Yvonne Israelsen, Travis Evans
Weigh-off Merchandise Booth
Jordan Rogers
Weigh-off Judges
Carrie Fox, Andrew Israelsen, Mohamed Sadiq
Weigh-off Leaderboard
Weigh-off Pumpkins Moving Coordinators
Clint Nash, Brent Evans
Weigh-off Fork Lift Operator
Tobias Peterson, Bill Montalvo
Weigh-off Lifting Crew
Gordon Tanner, James Pruet, Chris Empey
Weigh-off Photographers
Dan Farr, Richard Glassford, Kyle Clark
Weigh-off Scales
Ben McRae
If you're a grower and would like to volunteer as part of the weigh-off team, please contact Ben McRae or Kyle Fox.
About The UGPG
On February 19th, 2005 the UGPG was organized. The founding members decided they needed to have more control over the Weigh-Off's (which up to that point were being held and sponsored by other businesses and organizations) as well as pumpkin growing in the State of Utah. Gordon Tanner was elected as the first president, with Andrew Israelsen as Vice President, Kevin Card as Sponsorship Coordinator and Ray B. Tolman as Membership-Sponsorship Coordinator. There were 10 founding members.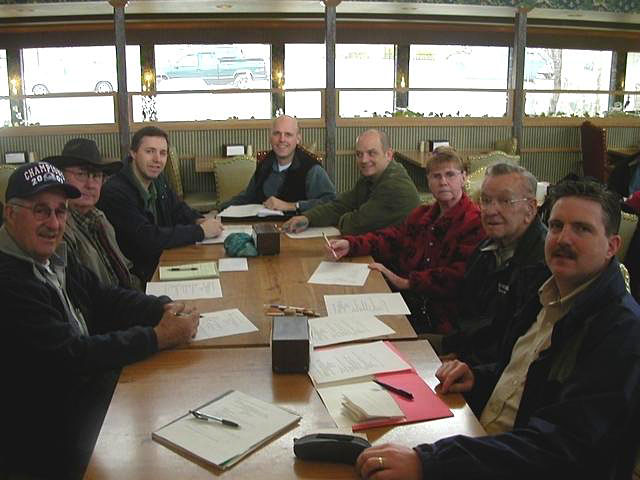 UGPG Founders: Bruce Orchard, Ray Tolman, Andrew Israelsen, Jim Larkin, Scott Nelson, Shirley & Ross Fullmer, Gordon Tanner - Taking Picture: Brent Wolfley - Not Pictured: Kenny Blair, Kevin Card
Our organization was made up of a group of ordinary people who enjoy growing Giant Pumpkins. One of our goals was to promote the hobby of growing Giant Pumpkins. The UTAH GIANT PUMPKIN GROWERS set and adopted standards, guidelines and rules so as to make growing and weighing Giant Pumpkins fair for everyone.