2009 Weigh Off Results - Thanksgiving Point
ANDREW ISRAELSEN'S 919 WINS
THE 2009 UGPG WEIGH OFF!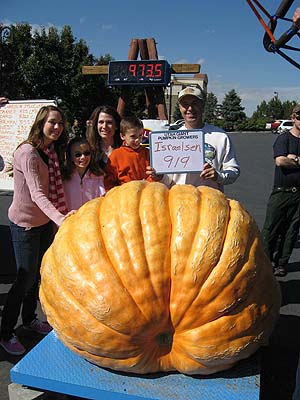 Andrew Israelsen won the 2009 Utah Giant Pumpkin Growers weigh off with a 919 pound pumpkin. Andrew's pumpkin was not his personal best, but it was large enough to take top honors this year. After placing 3rd in 2008, 2nd in 2007, and losing a pumpkin over 1000 lbs. to a split, he was excited to get his first UGPG win. The pumpkin was grown off the 948 Israelsen 2007 seed. Andrew is a veteran grower and brought his first pumpkin to a Utah weigh-off in 1999 (weighing in at 155 lbs). Clearly hard work and experience pays off. Congratulations Andrew.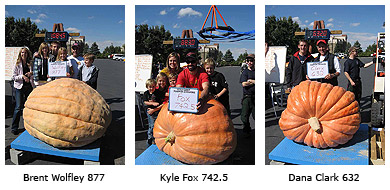 <!- end header -->
Giant Pumpkins
Rank
Photo
Grower
Weight
Hometown
Comments
1
Israelsen, Andrew
919
Taylorsville
2
Wolfley, Brent
877
Layton
New Personal Best
3
Fox, Kyle
742.5
Pleasant Grove
New Personal Best
Exihibition
Wolfley, Brent
706.5
Layton
4
Clark, Dana
632
North Salt Lake
New Personal Best
5
Bradley, David
583
Salt Lake City
New Personal Best
Exihibition
Bradley, David
572.5
Salt Lake City
6
Miller, Chris
561
Salt Lake City
New Personal Best
7
Fox, Carrie
542
Pleasant Grove
New Personal Best
8
West, Jim
532
Montana
9
Westwood, Neal
529.5
Highland
10
Card, Kevin
526.5
Highland
11
Tanner, Gordon
525
Kaysville
Howard Dill Award - Tie
12
Hughes, Brent
503.5
Centerville
Personal Best
13
Leavitt, Richard
419.5
West Valley City
Personal Best
Exihibition
Hughes, Brent
417
Centerville
14
Evans, Travis & Kira
405
West Valley City
Personal Best
Exihibition
Miller, Chris
405
Salt Lake City
15
Carlson, Rick
393.5
West Jordan
16
Wardle, Scott
392.5
Personal Best
Exihibition
Tanner, Gordon
386
Kaysville
17
Eiting, Mitch
370
Bountiful
18
Rice, Brandon
363
Kaysville
Personal Best
19
Richardson, Kristin
345
Salt Lake City
20
Holman, Lori
313.5
North Salt Lake
Personal Best
21
McConkie, Matt
311
Mountain Green
Howard Dill Award - Tie
Personal Best
22
Nielson, Terry
310.5
Sandy
23
Chapman, Joe
307.5
West Jordan
24
Clark, Carl
278.5
25
Wardle, Jason
257.5
Exihibition
Nielson, Terry
237.5
Sandy
26
Barlow, Tony
215.5
27
Coster, Darlene
214.5
28
Buckley, Anthony
206
Brigham City
Exihibition
Buckley, Anthony
193
29
Saxton, Curt
181
Enoch
30
Thatcher, Richard
169
Sunset
31
Saxton, Caleb
160
Damaged
Evans, Brent
368.5
Damaged
Rowley's Red
Barn Weigh-off
Perry, Lee
732
New Personal Best

Rowley's Red
Barn Weigh-off

Perry, Dori
524
New Personal Best
Rowley's Red
Barn Weigh-off
Perry, Dori
484
Rowley's Red
Barn Weigh-off
Perry, Dori
319
Giant Squash
Ranking
Photo
Grower
Weight
Hometown
Comments
1
Chad-Ford, Rebbeca
125.5
Squash
Long Gourds
Ranking
Photo
Grower
Length
Hometown
Comments
1
Wolfley, Kayla
79"
New State Record
2
Terry Nelson
N/A